Discovery Primary Academy Celebrates the Queen's Platinum Jubilee
To celebrate the Queen's Platinum Jubilee the pupils and staff at Discovery Primary Academy came to school in the colours of the Union Jack. They participated in a variety of activities to get into the spirit of this momentous occasion.
Each Year Group researched a decade of the Queen's reign -looking at key events, popular clothing, music and films. They created newspaper articles and art work linked to this.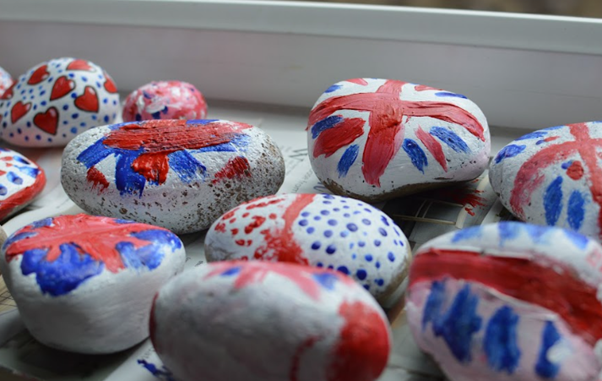 The whole school took part in an art project where their painted a pebble in red, white and blue and these will create a huge final piece which will be displayed in front of the atrium.
Our gardening club planted a beautiful rhododendron (one of the Queen's personal favourites). The reception classes enjoyed a feast fit for a Queen with cupcakes and cucumber sandwiches. Year 3 classes wrote a letter to the Queen herself and are eagerly waiting a reply!
The afternoon was spent having a Jubilee picnic on the field, followed by an outdoor assembly where we sang the national anthem, watched our country dancers perform and listened to 2 beautiful songs from our Key Stage 1 and Key Stage 2 choir.
It was an incredible day and was wonderful to see everyone getting involved!
Long live the Queen!